Metz
Mazelle Square and the Seille Promenade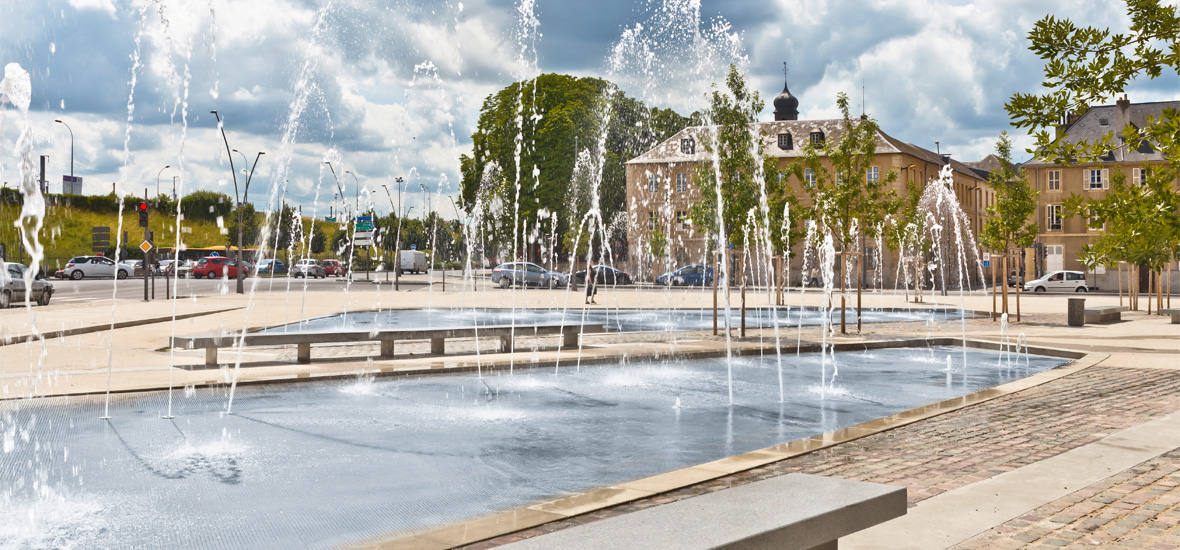 Where the old city of Metz meets the more recent districts in the south, Mazelle square and the Seille promenade are situated in a strategic sector with regard to the city's urban challenges and cultural dynamism. The space was originally given over to road infrastructure, and the challenge of the project was to make it a keystone of urban regeneration for the city.
Forming a real gateway for the city centre, as well as the missing link for the Seille promenade, the project allowed Metz to create a living public space for its citizens. Boulevard André-Maginot was reconfigured to minimise the space taken up by traffic lanes while taking into account all the constraints of traffic circulation in order to free up new spaces.
On a site that previously formed the prow at the confluence of two branches of the Seille, and is today at the crossroads of cultural institutions, the project expresses the metaphor of nature at the heart of the city by creating a square where the city of art and the city of water meet. It is composed of a large, open space, whose hard surface treatment integrates the presence of the road and provides a solid foundation for the buildings' façades. Space has been created to welcome city events and café terraces.
Like the vegetation of the river's meanders, the trees with their light foliage shelter more intimate places, punctuated with benches arranged around mineral slabs on which water gently flows, bringing freshness on summer days.
The development extends to the north, along shop facades, with the Jean-Cocteau square and a wide pavement into which a side-street feeds. The Seille promenade, with on-street parking, a cycle path and a large planted walk, overlooks the river and becomes an esplanade at Porte des Allemands.
PROJECT MANAGEMENT
Competition winner 2010 / Completion phase 1 2012, phase 2 2014

Contracting authority
Metz city council
Project manager
Florence Mercier Paysagiste mandated landscape architect, GA architecture, Iosis roads and utilities, PTV France mobility consultants
Budget
€6m
Surface area
4ha