Lille
Urbanistes Sector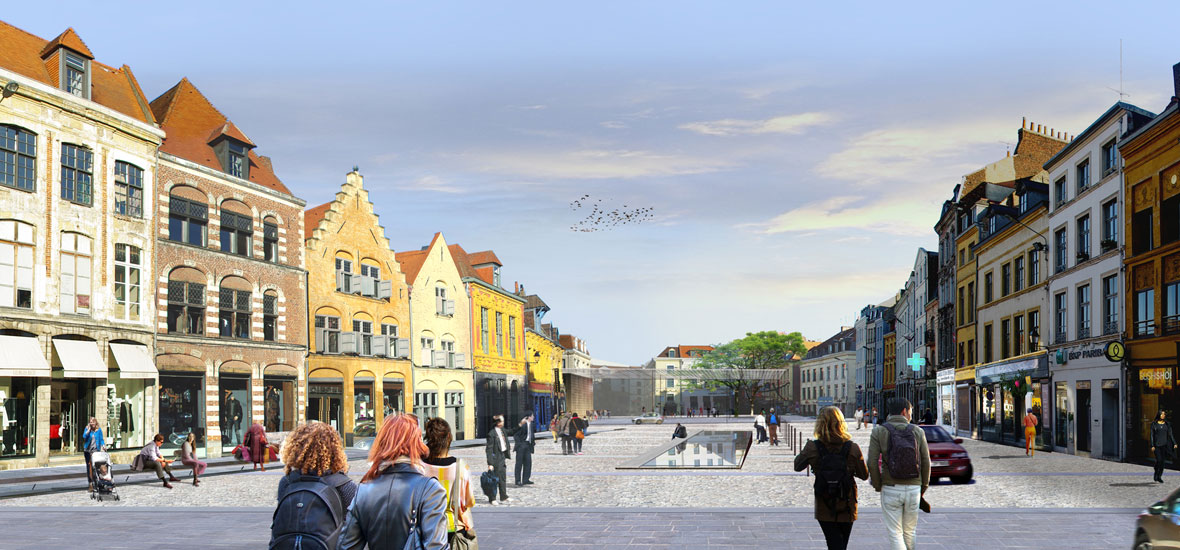 The development of the Urbanistes sector presents a major challenge for the city of Lille and its metropolitan area. The project involves the redevelopment of the public spaces of the boulevard Carnot and rue des Urbanistes as well as Patiniers, Lion-d'Or and Louise-de-Bettignies squares, from the city ring-road to its historic heart. As the space was dominated by the car the project aims to give a new use to the public space in favour of public transport and soft transport.
COMPETITION
Competition 2011

Contracting authority
Lille urban area council, Lille city council
Project manager
Florence Mercier Paysagiste mandated landscape architect, J.-F. Lagneau architect AMH, Egis roads and utilities, COSIL lighting designer
Budget
€15.5m
Surface area
4.6ha

From squares that formed the main heart of the old town to the city's urban infrastructure, via the limits of its successive enlargements, the Urbanistes sector carries the palimpsest of the different movements that have made the city of today. Focusing on the development of boulevard Carnot and the rue des Urbanistes, which form the two main entrances to Lille, as well as the squares of Patiniers, Lion-d'Or and Louise-de-Bettignies that form its historic centre, the idea of the project is to link the wider metropolis to the centre while giving legibility to the different strata that have built them up.
The project thus proposes to weave links between the contemporary city and the heart of the city while revealing the four historic strata through a specific treatment, and to differentiate in terms of status between the different spaces while addressing the issues of complex traffic circulation to give priority to soft transport.
The city-centre squares are welcoming once again to shops and pedestrians, their open spaces enhanced by materials that play with the Flemish facades; the main thoroughfares are reconfigured to pacify the urban space, while the different squares form thresholds and allow transition between the spaces.